04-08-2010, 11:50 PM
Junior Member

Join Date: Mar 2010

Posts: 11
Thien Mu Pagoda
---
Often called the symbol of Hue, Thien Mu is one of the oldest and loveliest religious structures in Vietnam. It was constructed beginning in 1601. The Phuoc Dien Tower in front was added in 1864 by Emperor Thieu Tri. Each of its seven tiers is dedicated to either one of the human forms taken by Buddha or the seven steps to enlightenment, depending upon whom you ask. There are also two buildings housing a bell reportedly weighing 2 tons, and a stele inscribed with a biography of Lord Nguyen Hoang, founder of the temple.
Once past the front gate, observe the 12 huge wooden sculptures of fearsome temple "guardians" -- note the real facial hair. A complex of monastic buildings lies in the center, offering glimpses of the monks' daily routines: cooking, stacking wood, and whacking weeds. Stroll all the way to the rear of the complex to look at the large graveyard at the base of the Truong Son mountains, and wander through the well-kept garden of pine trees. Try not to go between the hours of 11:30am and 2pm, when the monks are at lunch, because the rear half of the complex will be closed.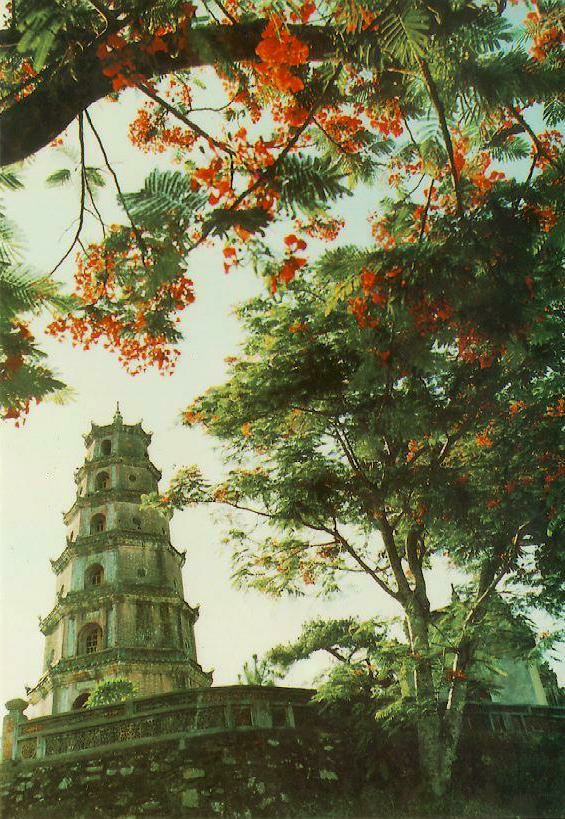 Hours Daily 8am-5pm
Location On the northern bank (same side as the Citadel) of the Perfume River. About 5km (3 miles) southwest of the Citadel entrance
NICHE TRAVEL VIET NAM ( International Tour Operator License 0854) 69 NGUYEN TUAN - HA NOI - VIET NAM.
VIET NAM CONTACT
Tel: +84 4 3858 7006
Hotline:+84 913 525 806
Fax: +84 4 3557 7011
AUSTRALIA CONTACT
+61 4 3777 7340
JAPAN CONTACT
+81 906 428 9867
Mọi thông tin vui ḷng liên hệ:
Công ty Cổ Phần Du Lịch AST
Địa chỉ : Số 56, phố cầu gỗ, quận Hoàn Kiếm, Hà Nội
Website :
www.asttravelvietnam.com
Điện thoại : (84-4) 9262628 - 9262688
Fax : (84 - 4) 9264898
Email : Loantravel76@yahoo.com.vn,info@asttravelvietnam.co m
---
Last edited by nguyennamhg; 08-31-2010 at

02:27 AM

.